These are my top tools every athlete should have at home or in the gym so you can undo any muscle damage yourself and not rely on your therapist. If you don't have the majority of these items and gizmos at your disposal you will find it quite difficult to keep your body in top condition or sort out niggles at home or in the gym when they occur. Plenty of great videos out there to see how they work or ask me for a tutorial during your physical therapy session.
Tools every athlete should have at home or in the gym
1. Large hard foam roller
Used for general rolling out of larger muscle groups (hamstrings, quads, IT band, glutes) and the back. If you have never foam rolled before buy the softer version and then progress to the harder version. Experienced athletes should move to a hard foam roller ASAP. A healthy muscle won't hurt when you roll it, most beginners muscles will hurt initially until they free them up.
2. Hand held soft tissue massage tool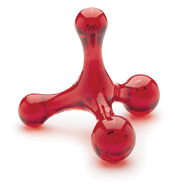 Used for applying different levels of pressure on specific spots within muscles. Good for arms and quads and calves.
3. Tennis Ball
Used for targeting specific muscles you can apply body weight to such as along the back. The softer ball is better for very sore muscles.
4. Quadballer
Excellent for calves and lower leg muscles. The rounded edge is quite pointed.
5. Golf ball
Primarily for use on the foot muscles around the arch
Drop into your local golf club – the pro shop will sell you one for €1 or rob one your from your Dad's golf bag.
6. Hockey Ball or Sliotar or Lacrosse ball
Used to target more precise spots in larger muscles such as glutes/hips, back and calves.
7. Magnesium oil spray
The majority of people have low magnesium levels. One of the effects of tight muscles and trigger points (knots) is that too much calcium is present in the muscles compared to magnesium levels, the balance should be around 1:1. Applying topical magnesium oil is a great way for tight muscles to absorb the amount they require and aid recovery. Also great before bed (behind the knees) for sleep! If it burns/itches when you apply it, that means your levels are way too low and additional supplementation should likely be pursued.
Better yet make your own – Wellness Mama
8. Flossing Band (strong)
This strong band is wrapped around a limb or joint tightly and then you quickly move the muscles being pinned down. Unhealthy skin / fascia / muscles can sometimes be tacked together, this will untack them and have them gliding freely giving you less tightness and more range of movement. A weird feeling and not too pleasant feeling if you have never experienced it! I get great results with it in the clinic.
9. Theracane
 This amazingly simple tool allows you to target every muscle in your body and apply sufficient leverage and pressure to release trigger points within tight muscles. Well worth the investment if you learn how to use it.
Am I missing something from this list that you would recommend? Let others know below!